Miami's Best Latin Nightspots
Which spots in Miami let you dance the night away Latin style? Um, most of them - but we've got your best bets for maximum booty shaking.
By Amanda Mesa | @thegirldowntown1/22/2016
When it comes to turning a party into a parranda, pachanga, or farandula (call it what you like), nobody in the United States is as skilled as Miami. So if you've been bit by the sudden urge to become fluent in salsa-stepping, mojito-swigging, and downright rachetera booty-shaking, look no further than these seven Latin hot spots.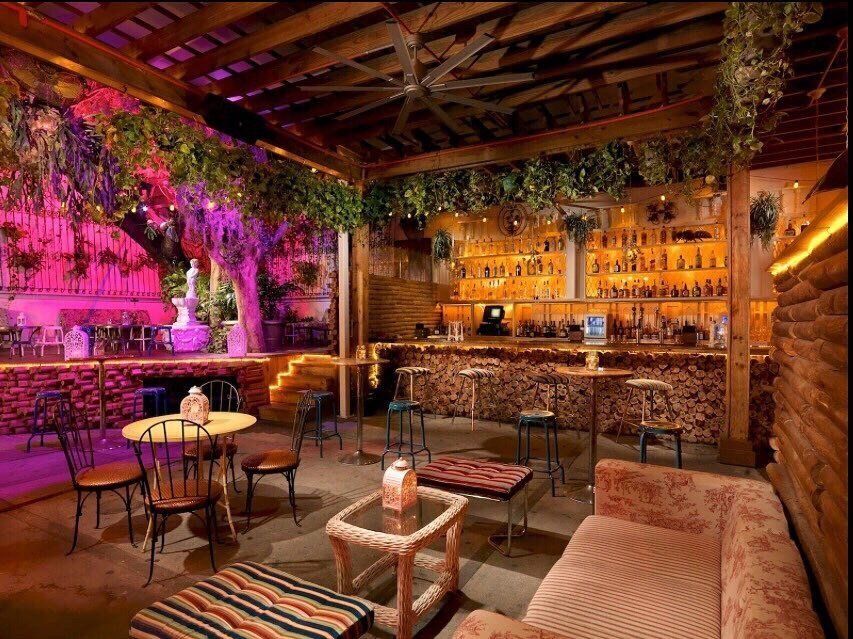 1. El Patio
At first glance, El Patio looks like just another shady haunt on Wynwood's warehouse-lined 23rd Street. However, once you muster the courage the make your way down that dubious alley that serves as an entrace, you'll quickly find yourself in an open-air Latin oasis that will make you feel as though you've stumbled upon a vibrant locals-only backyard party somewhere in South or Central America. The cocktail menu is creative and delicious, the beer specials are unheard of ($7 for a bucket every day for happy hour?) and the music alternates between electro-cumbia, live Latin, and spanglish hip hop.

When to go: Pretty much any day of the week between 4 p.m. and 4 a.m.

El Patio Wynwood, 167 NW 23rd Street, Miami. 786-409-2241.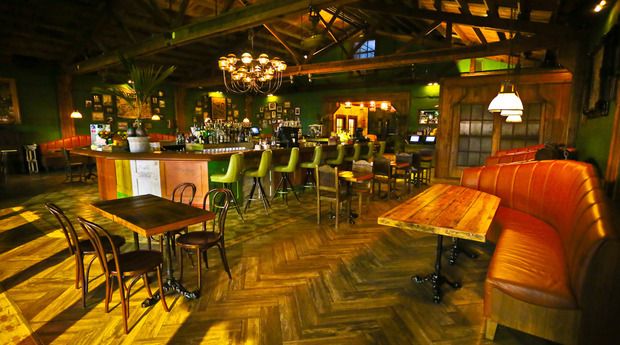 2. Ball & Chain
As iconic as it is current, Ball & Chain on Miami's historic Calle Ocho has been drawing night owls since the early 1930s (with a hiatus or two along the way). Now famous for its killer food and cocktails, live music, and awesome lineup of local talent, Ball & Chain has become the spot to go for some open-air dancing, drinking and blast-from-the-past fun.

When to go: Wednesdays - Saturdays from 7 p.m. onward. Ball & Chain features live jazz performances every Wednesday at 7 p.m., followed by live salsa at 10 p.m. La Pachanga plays every Saturday at 9:30 p.m., while Friday nights are usually a toss-up of local talent. Happy hour runs from 4-7 p.m. every day.

Ball & Chain, 167 N.W. 8th Street, Little Havana. 305-643-7820.
3. Lique Miami

Althought not originally a Latin club, this gorgeous Sunny Isle waterfront lounge recently introduced a steamy new Noche Latina, a weekly party replete with Latin inspired cocktails and a DJ spinning salsa, merengue, bachata and reggaeton. Because as we all know, hips were meant to be shaken under the stars with a $7 tequila cocktail in hand.

When to go: Wednesdays from 6 p.m. until midnight.

Lique Miami, 3957 N.E. 163rd Street, North Miami Beach. 305-705-2425.
4. Rubi Lounge
Those looking for a Latin-infused experience with a clubbier atmosphere need look no further than Rubi Lounge, one of the most recent additions to Brickell's nightlife offerings. Flashy, in-your-face and loaded with sparkle, Rubi boasts a soundtrack that features mostly Latin and international hits. Those looking to escape for a bit of fresh air and some tasty bites can chill in the bar's terrace area and order a plate of yuca fries, glammed-up garlic parsley aioli.

When to go: Fridays and Saturdays after 10 p.m. for some real dirty dancing.

Rubi Lounge, 141 S.W. 7th Street, Miami. 305-747-7400.
5. El Tucan
Looking for more of an 'old-world' Latin experience? Brickell's El Tucan will transport you to mid-century Havana with it's lush and opulent decor, classic cocktails, and riveting variety show. Book a dinner reservation and watch the show from prime stage-side seating, or enjoy a birds-eye view of the action from the upstairs mezzanine. No matter where you're situated, it's hard not to enjoy live salsa performances, acrobatics, old-school burlesque skits and Copacabana-style go go dancers.
When to go: Thursday, Friday or Saturday nights, depending on which headliner piques your fancy.
El Tucan, 1111 S.W. 1st Ave., Miami. 305-535-0065.
6. American Social
While clubs and popular night spots all over Miami have begun incorporating Latin nights, American Social bosts one of the best. The famous eatery has partnered up with Miami Salsa Dream Team for a salsa and bachata party every Wednesday night featuring 50% off mojitos, $20 import and domestic beer buckets, and live Latin beats by DJ Mike Calderon. Show up at 9 p.m. and you can brush up your skills with complimentary dance lessons.
When to go: Wednesdays from 10 p.m. until close (dance lessons start at 9 p.m.)
American Social Brickell, 690 S.W. 1st Ct., Miami. 305-223-7004.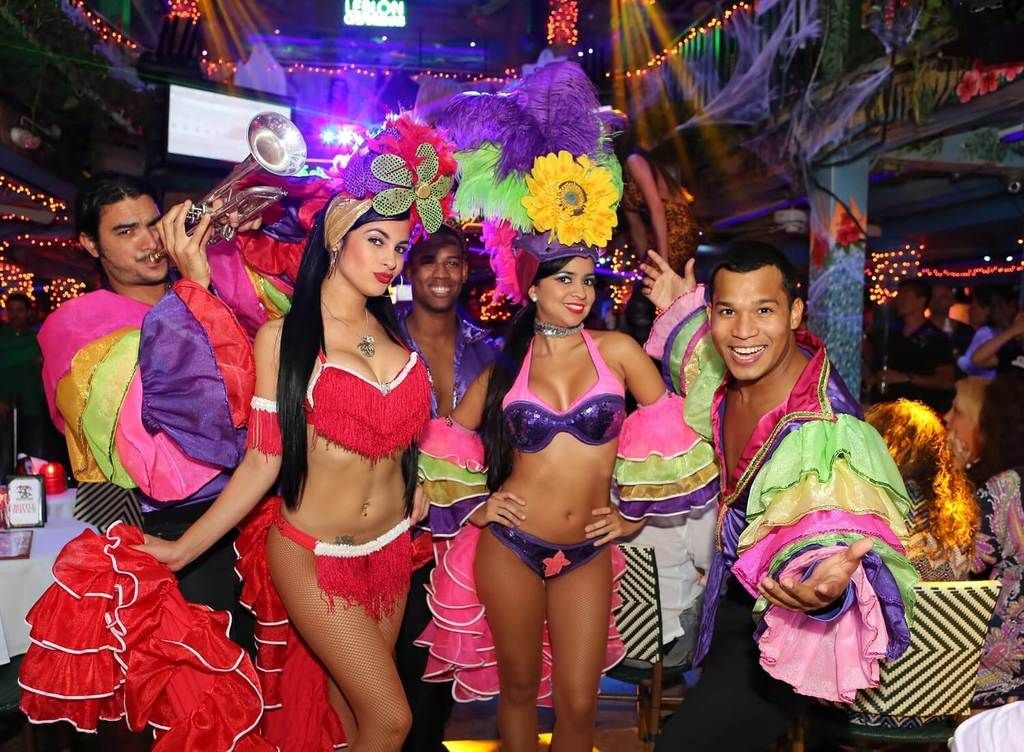 7. Mango's Tropical Cafe
This famous Ocean Drive haunt has achieved near legendary status among Miami Beach locals and visitors alike. Known for it's racy dancers, live Latin music, and anything-goes dance-on-the-bar attitude, Mango's has earned its reputation as a go-to party spot whether your in the mood to cha-cha or just people-watch.
When to go: weekend nights between 11 p.m. and 2 a.m.
Mango's Tropical Cafe, 900 Ocean Drive, Miami Beach. 305-673-4422.
8. La Covacha
Anybody who tells you La Covacha is where you go when you want to get ratchet is telling you the truth. That said, we love it anyways (perhaps because of the ratchet factor). It's the kind of spot that sucks you in after you've had enough of your main destination for the night and just want to keep the party going. Uncensored, unpredictable, and definitely Latin oriented, La Covacha is a lot like Las Vegas: what happens there probably should stay there.
When to go: Thursdays - Sundays from 1 a.m. to 5 a.m.
La Covacha, 10730 NW 25th Street, Doral. 305-594-3717.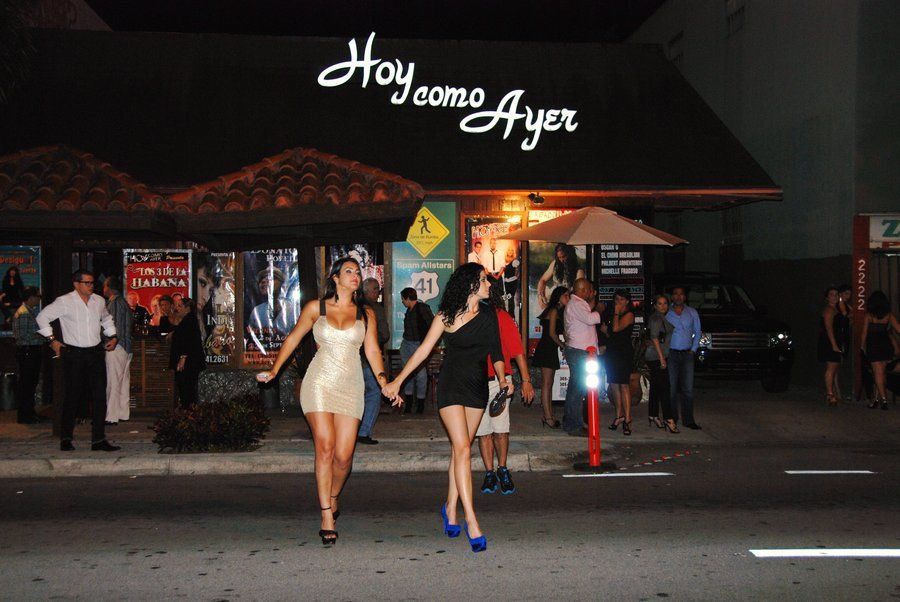 9. Hoy Como Ayer
Hoy Como Ayer is your definition of a hole-in-the-wall gem. If you passed it on the street, you might not even realize it was a bar. Once inside, though, you'll quickly find out you've discovered on a speakeasy-style sweet spot, replete with live Latin bands and performers, strong cocktails, and ample room to salsa the night away. Located on Miami's iconic Calle Ocho in Little Havana, it doesn't get more authentic than this.
When to go: Wednesdays - Saturdays around midnight.
Hoy Como Ayer, 2212 SW 8th Street, Miami. 305-541-2631.