Halloween parties in Miami that you cannot miss
Celebrate Halloween like a boss this year with this scream-worthy party guide.
By Amanda Mesa | @thegirldowntown9/23/2016
We're here to help you plan your Halloween night with a ghoulishly good party guide - live it up like the undead at any of these must-hit events.
1. HalloWYN
Miami's largest free block party, HalloWYN in Wynwood will feature live DJ performances, a costume contest, over 25 food trucks and a giant jumbo screen featuring cult horror classics.
October 31 from 7 p.m. - 2 a.m., at Mana Production Lot - 2250 NW 2nd Avenue, Miami FL.
2. House of Horror Haunted Carnival
Fans looking for a real fright can head to House of Horror Haunted Carnival, which will feature a ghost-ridden mental asylum, a sci-fi-meets-horror 3D virtual reality experience, a disturbing Freak Emporium, and plenty of ghastly carnival rides. The festival will also featured performances by The Chainsmokers, Zara Larsson and Daya.
September 29 - November 6 at Miami International Mall, at 1455 NW 107th Avenue, Doral FL.
3. Nightmare On the Beach
Head to Lummus Park for the 7th Annual Nightmare On the Beach charity event hosted by The Little Lighthouse Foundation. This year's theme is Dia de los Muertos, with a special tribute to Lucha Libre. Guests will also enjoy live music performances, themed pavilions, costumed performers, a top shelf open bar and world class bites.
October 29 from 9 p.m. - 2 a.m. at Lummus Park, 9th Street & Ocean Drive, Miami Beach FL.
4. Malice in Wonderland
Miami Beach hot spot Baoli will offer a Halloween edition of their iconic My Boyfriend is Out of Town party. Named 'Malice in Wonderland,' the event will feature special appearances by the White Rabbit, Queen of Hearts and Malice herself. Guests can enjoy a VIP open bar (with purchase of VIP option), and an exclusive curated 3-course prix-fixe menu for guests wishing to dine.
October 26 at 7 p.m., at Baoli - 1906 Collins Avenue, Miami Beach FL
5. Halloween at the Biltmore
The iconic Biltmore Hotel will once again host its Annual Halloween Party celebration in the heart of Coral Gables. Guests can enjoy an open bar, a sumptious buffet dinner, live entertainment, and costume contests.
October 28 at 8 p.m. at the Biltmore - 1200 Anastasia Avenue, Coral Gables FL.
6. Wynwood's Dead Carpet
Presented by HGAB, Wynwood's Dead Carpet will feature performances from long-dead music icons and superstars, as well as $2 PBR's, special Rose and Prosecco bottles, and a costume contest where the winning prize is a $200 bar tab. Admission is free with RSVP.
October 31 from 7 p.m. The Wynwood Yard - 56 Northwest 29th Street, Miami
7. Sundowner at Vizcaya
Celebrate this year's theme, Prohibition, with dancing and open bar on the waterfront terrace. Costume contest. Emcee NBC 6's Roxy Vargas. Proceeds go toward Vizcaya renovations.
October 29 from 8 p.m. to midnight at Vizcaya - 3251 South Miami Ave., Miami; www.vizcayahalloween.org.
Photo/DigestMiami
8. Cosplay at SUSHISAMBA Miami Beach
Inspired by Japanese manga and anime, SUSHISAMBA Miami Beach will transform Pennsylvania Avenue into the ultimate street dress-up party with $9 cocktails and prime seats for watching Lincoln Road's Halloween parade.
Monday, October 31 from 7pm – close at 600 Lincoln Road, Miami Beach; reservations are highly recommended.
9. Pawn Broker at The Langford Hotel
Slip into your sequins as Pawn Broker hosts a Great Gatsby-themed affair this Halloween on Saturday, October 29th and Monday, October 31st.
Normal service will be served all night long on both nights at 121 SE 1st Street, Miami.


10. Yelloween at The Forge
This year, the theme is Kiss of the Spider Woman/Spiders at The Forge's annual Yelloween party, featuring live performances by Project F and music by DJ Robert Costa. A costume contest will take place at the bar, offering $500 for first place (and a $1,500 bottle of Limited Edition Veuve Clicquot Luminous Jeroboam), a $500 dinner voutcher for second place, and a basket of 6 Veuve bottles for third place.
October 28 all night at 432 W 41st Street, Miami Beach
11. Cantina La Veinte's Halloween Bash
On Saturday, October 29 Cantina La Veinte will host a Halloween Bash complete with a costume contest featuring three winning prizes (a $300 gift card to the restaurant, a bottle of Dom Perignon, or a bottle of Don Julio). The restaurant will also feature Halloween-themed specialty cocktails and a Halloween-themed menu.
October 29 from 8-10 p.m. at 495 Brickell Ave, Miami
12. Halloween Freak Show at Rockwell
Miami Beach night spot Rockwell will host an eccentric Halloween Freak Show on Halloween where partygoers can enjoy dwarves, contortionists, and surprise interactive character. Dress in your freakiest attire for a chance to win Rockwell's costume party.
October 31 from 11:30 p.m. at 743 Washington Avenue, Miami Beach
13. Freak Show at sbe's Hyde Beach
Miami Beach's ever-glam Hyde Beach at SLS South Beach invites guests to enjoy its Freak-Show themed Halloween extravaganza on Saturday, October 29th. Guests are invited to dress in their most outrageous costumes for a freak-show themed night featuring sword swallowerws, stilt walkers, bearded women, and more.
October 29 from 10 p.m. at 1701 Collins Avenue, Miami Beach
14. HE11EVEN OCEANS at E11EVEN
24/7 ultraclub E11EVEN will kick off its annual HE11EVEN party series on Thursday, October 27 running through Monday, October 31 with HE11EVEN The Abyss, a submersive Halloween adventure featuring local favorites like DJ Joe Maz, Graham Funke, DJ Crespo, and DJ ES.P to name a few. The ROOFTOP at E11EVEN will also host plenty of fun, including a Salsa Under The Stars Halloween edition on Saturday, October 29 featuring live music by ARA-OKO. Tickets can be purchased here.
October 27-31 at 29 NE 11th St, Miami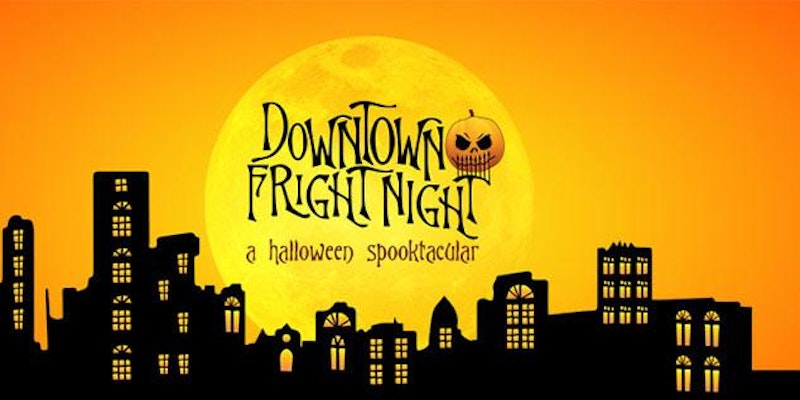 15. Downtown Fright Night: A Halloween Spooktacular
Head to East Flagler Street for a Halloween Block Party sure to give families plenty of chills and thrills. Kicking off at 3 p.m., the inaugural edition presented by the Miami Downtown Development Authority (DDA) and SWARM will feature trick-o-treating, costume contestrs, a family fun zone with inflatables and arts and crafts, live music performances, a 'costume clinic' for quick costume repairs and a magic show. As night falls, adult partygoers will enjoy a main stage sponsored by HITS 97.3 and hosted by DJ Laz, classic horror films showcased on the main stage's LED screen, and a midnight showing of the Rocky Horror Picture Show.
October 29 from 1 p.m. - 3 a.m. at East Flagler Street. Dog lovers are welcome!
16. Monster Ball at Ball & Chain
Viernes Culturales takes on a 'cultish' Halloween tinge this Friday, October 28 as Ball & Chain presents 'The Monster Ball,' featuring Ball & Chain dancers and classic Halloween characters. The party will kick off at the main bar at 8 p.m., followed by a special dance production at the pineapple stage at 9 p.m. The Spam Allstars and DJ Kenyi Succar will keep the party going long after midnight.
October 28 from 8 p.m. at Ball & Chain, 1513 SW 8th St., Miami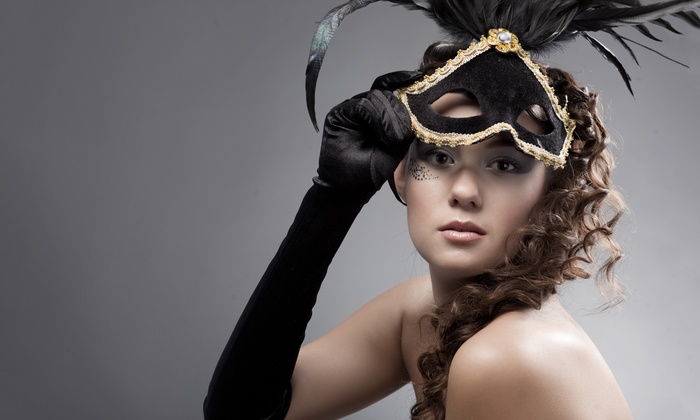 17. Le Masque Noir
This promises to be Miami's kinkiest Halloween party, catering to free-spirited party people with all manner of entertainment like fire eaters, latex models, acrobats, rope performers and hosted by Carnivale Risque, a team of performers and educators that use the exotic tools of the BDSM to introduce the Art of Fetish.
Saturday, Oct. 29 9 p.m.-3 a.m. at Lemon City Studios, 261 NE 73rd St., Miami; www.halloweenmiami.com.
18. Star Wars Halloween Party at Rec Room
LDV Hospitality's Rec Room hopes the force will be with you as the Miami Beach hotspot celebrates Halloween with a Star Wars themed party. DJ Jessica Who will provide the soundtrack to this free event.
October 29 at 1690 Collins Avenue, Miami Beach
19. Delano Beach Club's All Gold Everything Halloween Party
If you're a sucker for glitz and glam, head to the Delano South Beach and kick off your Halloween weekend with a night of fire breathing, latex dancers, sword swallowers, stilt walkers, close up magicians, contortionists and more by Cirque Le Soir London. Music will be provided by the loikes of DJ Beto Giovannetti & ATG.
October 28 from 9 p.m. to 2 a.m. at 1685 Collins Avenue, Miami Beach
20. Mondrian Pool Club
For some daytime fun, Mondrian's Pool Club will host a Sunday Funday Halloween pool party starting at 1 p.m. featuring specialty cocktails, candy pool floats and a haunted cabana. There will be a $50 food and beverage minimum for pool access.
October 30 from 1 p.m. at 1100 West Avenue, Miami Beach
21. Via Emilia
South Beach's Via Emilia will ringin Halloween with a costumed dinner and some signature pasta dishes during two seatings. The best costume from each seating will receive a complimentary dinner for two.
October 31 at 1120 15th Street, Miami Beach
22. Afrojack at Story
For your nightclub fix, head to Story where Dutch DJ superstar Afrojack will be headlining. Tickets start at $30.
October 28 at 136 Collins Ave, Miami Beach
23. American Social Brickell
The Brickell waterfront mainstay will celebrate all weekend long with drink specials on Friday, October 28, a costume contest (and drink specials) on Saturday, October 29th (with up to $1,000 in cash and prizes up for grabs), and Sunday, October 30th for a special Halloween edition of AmSo's #Sundaze Funday brunch featuring bottomless mimosas, live DJ performances and - you guessed it - more drink specials!
All weekend long at 690 SW 1st Court, Miami
24. Regent Cocktial Club
Kick off your Halloween weekend by learning to fix a killer drink (pun intended). LDV Hospitality's Regent Cocktail Club will host Casa Noble Tequila for a cocktail class on Friday, October 28th, so you can brush up on your bartending skills before hosting your own Halloween fete. The class is part of Regent's monthly cocktail course series, which features a different spirit each time. Tickets are $65.
October 28 from 7-9 p.m. at 1690 Collins Avenue, Miami Beach